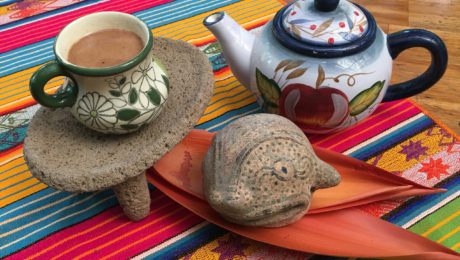 Cacao, simple in appearance, or so it seems, is an understory treelet native to Tropical America. Leaves entire, bright-green, branches and fruits rich in mucilage. She is modest, as her small five-petaled bone white flowers pollinated by tiny fairy-like flies. At each sprouting node five branches protrude; to obtain maximum yield the plant is kept at five limbs like a hand reaching to the sky. When her colorful oblong fruits, furrowed with five rows of seeds bear on the tree's trunk and branches though, she shows herself as a sign of divine abundance. We have five organs pairs and five primary senses, five fingers, toes and limbs. In the mind of the ancients, that Cacao and humans share five as a commonality validated even more so our intimate association. Chockablock with history and cultural lore, legends have it that Cacao was gifted to early peoples by the Feathered Serpent itself, so that we may remain heart-centered and energetic. Cacao is a faithful part of the human-fabric, to such an extent that we may say, "To know thyself, drink Cacao"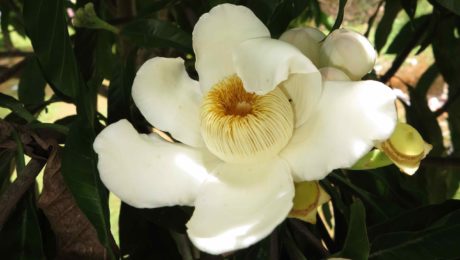 The extensive gardens at Ocean Forest Ecolodge harbor hundreds of species of native and rare ethnobotanical treasures from Central and South America as well as the Asian Tropics. These include fruit trees that guests enjoy seasonally, aromatic herbs, medicinal plants, detox bitters, emollients and adaptogens, many of which are served in teas at lunch and dinner or applied upon request.
Each year from December to February, a most peculiar vine flowers. This is the Yagé, that dones the now infamous latin name Banisteriopsis caapi. This mysterious medicinal vine, widely used through out the Amazon basin, is at the central core of hundreds of Indigenous Peoples communities ancestral holistic plant medicine science.