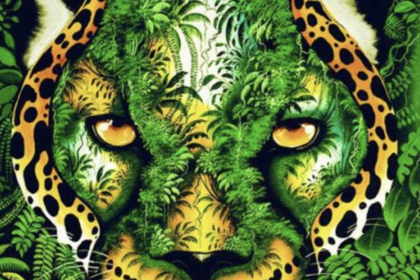 CabrúVróje – "The Warriors that came from Behind the Sun"
Every year starting on Dec 30th and going on to Jan 2nd at the indigenous people's community of Boruca in Southern Costa Rica a great celebration occurs. Known today as the Fiesta de los Diablitos, meaning "Festival of the Little Devils."
The festival stands as a testament to the peoples will to stomp out oppressing forces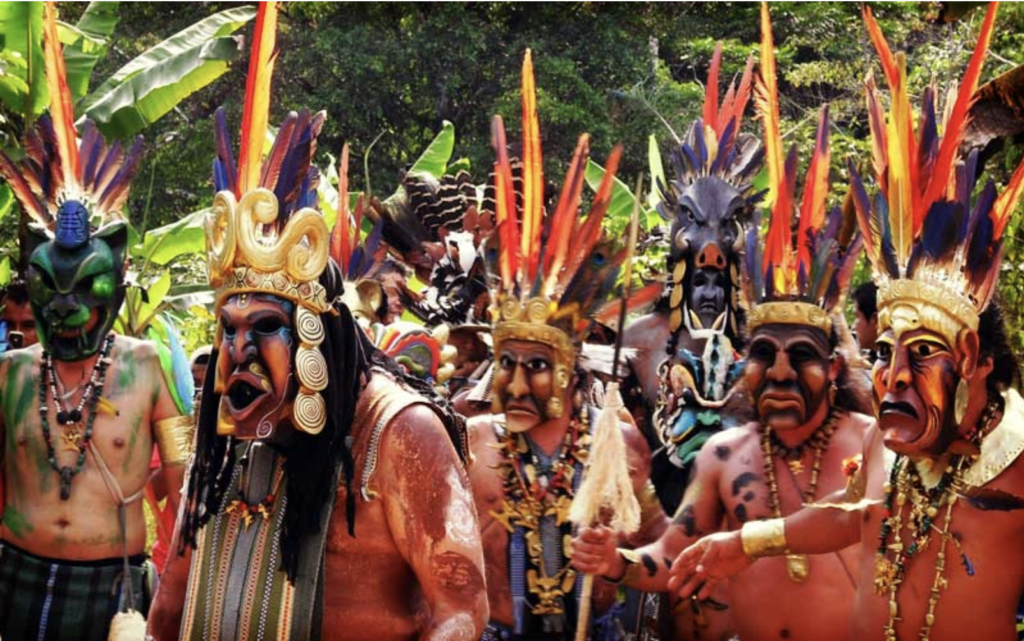 Where local artisans exhibit weavings and masks
What I really like about this festival is the generosity of the people, and the open heartedness of the general scene! From house to house one goes drinking chicha and everyone is joyous. People from many communities and countries join in the festival. Local artisans can exhibit their trades and it has become an important income source for the Boruca community.
Celebrating the overcoming of oppressing forces
It is a time to celebrate the truth that the human spirit is strong enough to overcome oppressing forces, and also a reminder that the struggle is real. And that in this struggle we must not forget the need to uphold the spirit of generosity and the need for people, from all walks of life, to join with an open heart and honor – that in truth, we are all one extended human family. Also inherent is the importance of discipline and the respect of natural order. A vital component of this festival that must not be overlooked is our union with the forces and elements of nature, who need our care and protection!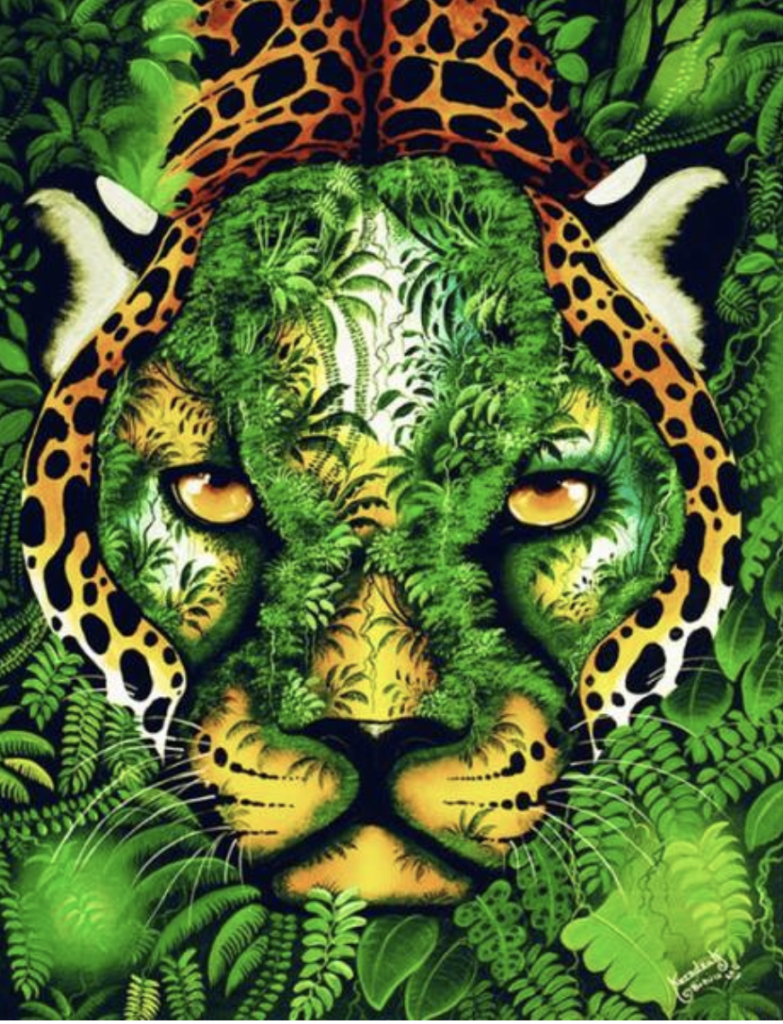 A Much Older Name
Interestingly enough, there is a much older name to this festival. One that illuminates a deeper meaning than the actual name, that is "a post colonial invention" as Saúl Morales said to a journalist of the Ballena Tales (see below link). In this article Saul, an old friend, who is a Brunka art history teacher, cultural adept, stone sculptor and artist, explains how Mrs. Angela Gonzalez, now deceased Brunka tradition elder and weaver, shared the festivals true and original name. The true name of this festival, in the native Brunka language is CabrúVróje, this translates as, "The Warriors Who Came from Behind the Sun." In personal communications with Saúl, he has made it clear that the true purpose of this festivals is to commemorate the rebirthing of these warriors, the warriors who came from behind the sun. And these warriors…these are the ones who conquer with warmth and generosity. Who bring in their rebirth the energy of the light of the sun. The life giving power and unifying strength of the eternal, nurturing, heart-warming and healing energy of the all mighty sun. Much as are the Brunka people of today. They don't always dress like this photo though, for that you gotta make the next festival!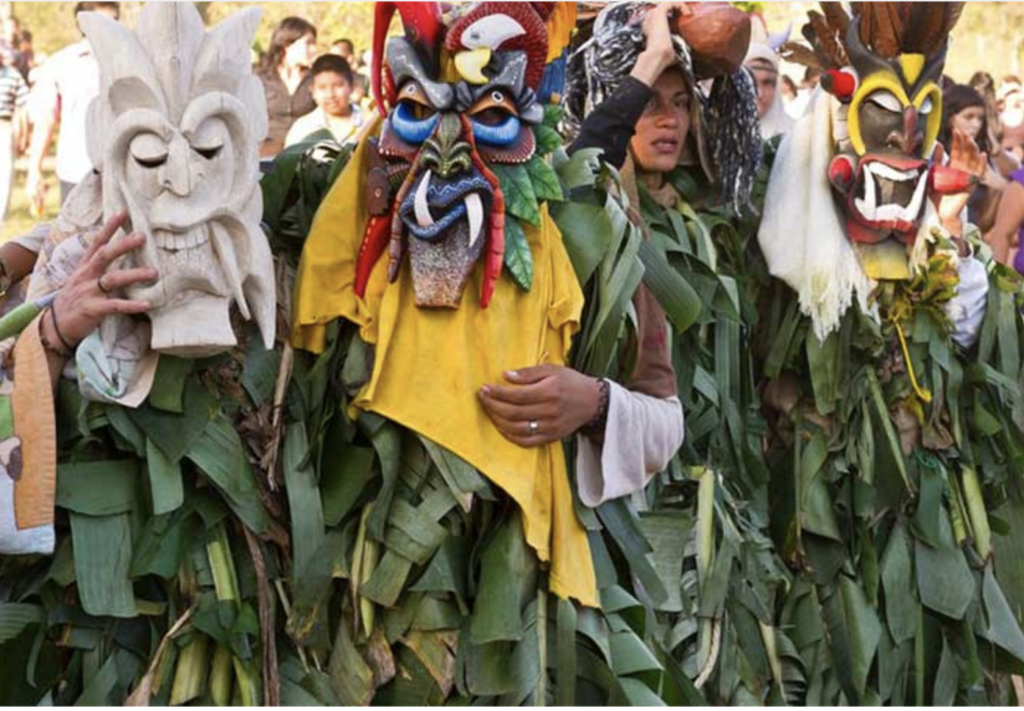 You can still catch round two at Rey Curré
There is a second round of the festival at neighboring village of Rey Curré, on the Terraba River, that takes place each year from January 31st to Feb 4th, where the festival is lifted up once again, and outcome the devils and the bull, beautiful crafts are made for sale to visitors. Out comes the chicha and the merriment, where the warmth of the traditions of Southern Costa Rica are again joyously made known.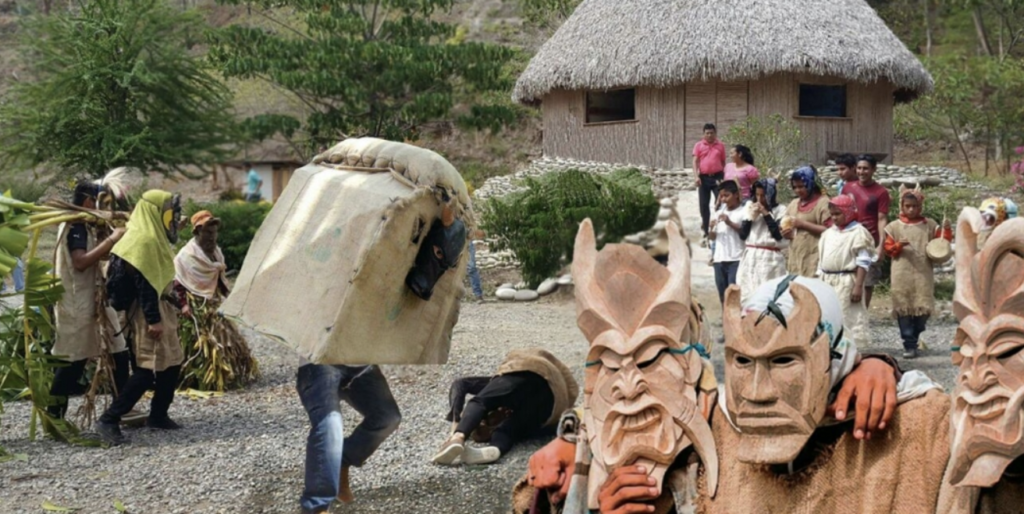 Heres some videos and info links to bug out on!