Arriving ~ The Adventure Begins!
There are two points of entry, from Drake Bay or the river town of Sierpe.
Ocean Forest Ecolodge (aka Guaria de Osa) is situated on a roadless people friendly paradise beach called Playa Rincón de San Josecito. We are situated in southern Costa Rica, on the westernmost cove of the Osa Peninsula, just South of Drake Bay and just North of Corcovado National Park! Please take a moment to study the map below that will help orient you for the travel. Below you'll also find a list of helpful on route contacts and information. 
The absolute beauty of our location is our pristine and remote setting. Being that the last leg of the journey is by foot, we suggest you pack light and bring a backpack. We are also happy to help you with your bags if you've packed with a suitcase. Please review the "What to Pack" list to ensure you don't overpack.
Our address: Finca Guaria de Osa, 800 meters north of the San Josecito School house, Playa Rincón de San Josecito, postal code 60502, Puntarenas Province, Osa County, Costa Rica
See you soon and enjoy the ride!

Our two entry routes
DRAKE BAY
The nearest point of entry is Drake Bay, a small bay town on the Pacific Ocean. From the airport arrival to our beach is by a jeep ride through the beautiful southern Costa Rica country side, where locals still get around by horseback! Arrival is also possible from Drake Bay by a 25-minute boat ride to San Josecito Beach. This option is only available for groups of 6 or more guests.
The Route from Drake Bay to the Ecolodge
40 min. - San Jose to Drake Bay by plane
45 min. - Airstrip to San Josecito Beach school house by taxi
15 min. - Casual beach walk north to the Ecolodge
SIERPE
A sleepy river town, 15-minute drive from Palmar Sur airstrip or 20-minute drive from the Palmar Norte bus station. From Sierpe arrival to the ecolodge is by a one-hour boat ride down the meandering Sierpe River mangrove estuary; then out onto the sparkling Pacific Ocean to San Josecito Beach. Passing the river mouth is an experience to be had in and of itself!
The Route from Sierpe to the Ecolodge
40 min. San Jose to Palmar Sur by plane,
or 4 ½ hours via land through Palmar Norte/Sur
20 min. Taxi drive to boat docks at "Donde Jorge Restaurant" in Sierpe
90 min. Sierpe to San Josecito beach by boat (past Drake Bay) via river and ocean
20 min. Casual walk south to the Ecolodge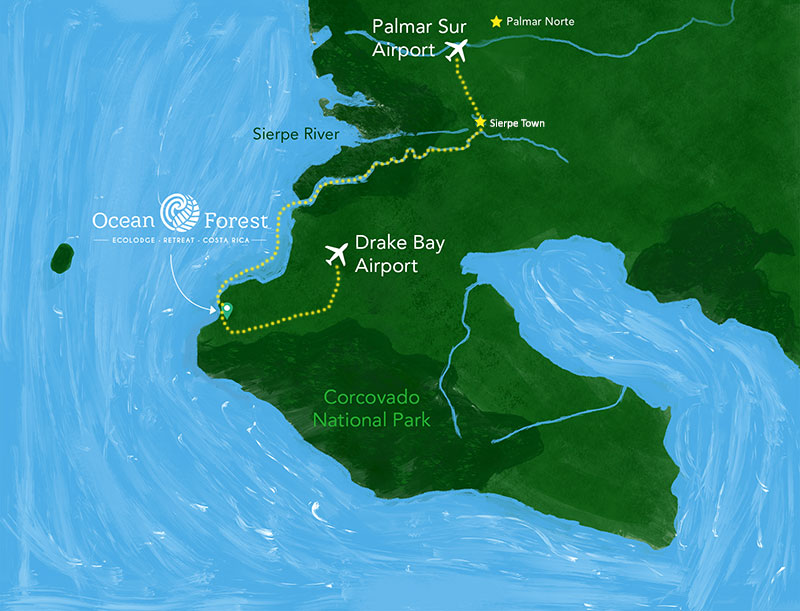 The boat ride from Sierpe
Community boats called "el colectivo" depart daily from Sierpe at 11:30 a.m. and 4 p.m. from Donde Jorge Restaurant. Private chartered boats can leave at any time between 7 a.m. and 1 p.m. We recommend entering in the morning, and if chartering a boat by 1 p.m.at being that the ocean is calmer in the morning. The afternoon ride can sometimes be bumpy, but there is the 4 p.m. community boat available for those coming in late.
Palmar Norte and Palmar Sur
Palmar Norte and Palmar Sur are the same town, called Palmar. Palmar Norte is the part of town on the north side of the Terraba River where the bus station is located; Palmar Sur is the part of town on the south side of the river where the domestic airport is located.
Drake Bay to Ocean Forest Ecolodge
Entry is mainly by an adventurous 40 min. safari style jeep transport.  You drive through rainforest country side and cross several creeks and rivers. Your flight should arrive at Drake Bay airstrip by 3 pm latest.  Best to arrive on the early flight! A jeep will pick you up at the airstrip and take you all the way San Josecito's beach school house.  Our staff will meet you there help with luggage, a 15-minute beach walk and your there, unless you get side tracked by the epic beauty!
From Drake Bay it is a 20-minute boat ride along the cost to San Josecito Beach. For groups, boat transfers can be arranged. Boat entry from Drake Bay is best in the morning while afternoon arrival from Drake Bay is only by quad or jeep.
San Josecito School House and San Josecito Beach
It is important to note that San Josecito School House and San Josecito Beach are two different locations.
San Josecito School (Escuela San Josecito) is located on Rincón de San Josecito beach and is where the road from Drake Bay ends. The school house is located just south of the ecolodge, arrival from the school house one walks about 800 meters to the north, approx. 15 minutes, with the ocean to your left.
San Josecito Beach (Playa San Josecito) is a protected cove that offers safe boat arrival, it is located just to the north of the ecolodge. It is also a great spot for snorkeling and wildlife observation! All boats arriving from Sierpe, pass Drake Bay, and leave passengers at San Josecito Beach. From San Josecito Beach walk south about 15-20 minutes, with the ocean on your right. Follow the coast trail, through a coconut grove the next beach over, called Playa Rincón de San Josecito. This is Ocean Forest Ecolodge's mile-long paradise beach! 500 meters down the beach you'll see our boats and a boardwalk in to the property and you've arrived!!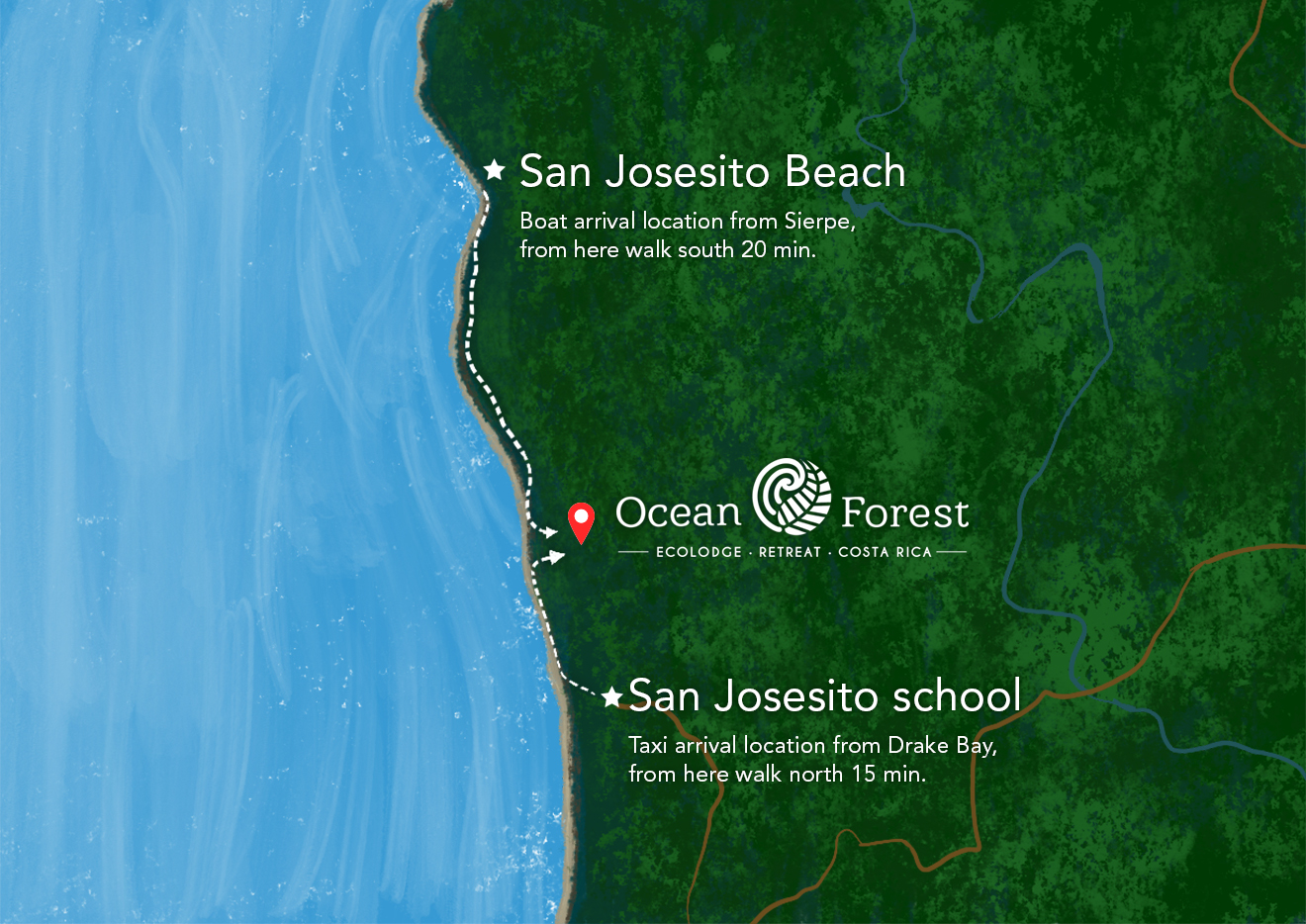 Air and Land Transfer info From San Jose
Arrival by Air: Fly Sansa
The swiftest way to arrive from San Jose is by a local flight, either to Drake Bay or Palmar Sur airstrips. Our recommended local airline is Sansa Air that offer daily flights to Drake Bay and or Palmar Sur airstrips. We recommend entering via Drake Bay and departure via Sierpe / Palmar Sur.
Arrival by Land: Rental Car, Shuttle or Bus
Driving to Sierpe
From San Jose airport, drive along the Coastal Hwy, expect a 4 ½ hour scenic drive. At Sierpe you can park your vehicle at Donde Jorge Restaurant or El Fenix garage in front of the park, both places offers parking service and are located close to the boat departure docks.
Driving Directions
From Juan Santamaria International Airport to Sierpe, give yourself 4 hours.
Take Route 1 West along the Autopista General Cañas,
Follow Route 27 along the Pacifica Fernández Oreomundo Hwy,
Follow Route 34 along the Costanera Sur Hwy to Palmar Norte.
After the bridge crossing on the Terraba River turn right along Route 223 to Sierpe.
Shuttle to Sierpe
There are quite a few good shuttle companies that can pick you up at many locations and at many hotels. Reservations should be made at least 2 - 3 days prior to travel, make sure to receive a confirmation from them.  You should arrive to Sierpe by 11 a.m. for boat departure at 11:30 a.m. See links below for shuttle agencies.
Arriving by Bus
The Public Bus that heads to Zona Sur, is TRACOPA make sure you get off at Palmar Norte, then take a cab to the town of Sierpe. There is also a bus from San Jose direct to Sierpe that departs San Jose at 8:30 AM. This will allow you to arrive on time only for the afternoon boat transfer. Visit Tracopa web site link below for more info on schedules.
Departure
 To Sierpe: Early 6 a.m. breakfast, at 6 30 a.m. we walk to San Josecito Beach. The boat departs San Josecito Beach at 6:50 a.m. arriving to Sierpe at 8 a.m., which is early enough to catch the flights leaving from Palmar Sur.
To Drake Bay: Early 6 a.m. breakfast and walk to San Josecito Beach School House, where a jeep will bring you to the airstrip. 40-minute drive. Depending on your flight departure time, you may be able to leave a later in the day.
Helpful Contacts
Donde Jorge Restaurant
Located at boat departure docs in Sierpe - www.laperladelsur.cr
Tel and WhatsApp - +506 8825 3326
Google Map
Sansa Airlines
To Drake Bay
To Palmar Sur
Renting a car
Here's a helpful blog entry from "My Tan Feet Costa Rica Travel Blog" on car rentals
Adobe Rent a Car in Costa Rica
Shuttle services
Click here to reserve a shuttle on Anywhere Costa Rica
Trans Alvarez
Pedro is a local transportation provider in Sierpe. He has a shared taxi service to and from San Jose to Sierpe. His rates are better than Anywhere Costa Rica. Just have to email him or call.
WhatsApp and cell # +506 8703 2121
Email: transalvarezso@hotmail.com
Eric Campos
A great Taxi driver in San Jose:
WhatsApp and cell # +506 8377 4704
Email: erickcampos08@hotmail.com
Tracopa Bus to Zona Sur
Make sure to take the Costanera Highway route. The Cerro route or mountain route, though very scenic takes a few hours longer. A bus leaves from San Jose to Sierpe daily along the costanera route at 8:30 a.m. but won't make it for the 11:30 colectivo boat. If you arrive by bus you can explore Sierpe and take the 4 p.m. boat. Check out the ancient granite sphere in the Sierpe park, the Kokopelli gift shop and enjoy a wonderful meal at Donde Jorge Restaurant.
Click here to see TRACOPA bus schedules and web site.
Drake By transport contacts
Delfin Vargas - Jeep Taxi: WhatsApp and cell #:    +506 8937 2020
Franklin Araya - Jeep Taxi: WhatsApp and cell #:   +506 8897 9393
What to Pack
Basic packing list
* head lamp or flashlight
* sunhat, beach towel & flip flops
* suntan lotion, sunscreen & bug repellant
* day pack & water bottle
* bathing suit & lightweight quick dry cloths
* toothpaste, toothbrush, biodegradable toiletries, etc.
* portable fold up umbrella or lightweight rain poncho (May through December)
* Pullover or light sweater for San Jose arrival
* hiking shoes
Notes:
* Pack for the 20-minute walk to the lodge
* Local flights allow 25-lbs.; each pound overweight is charged $1 per pound
* We recommend using rechargeable batteries or plug in rechargeable flashlight
* Remember the last leg of the journey is by foot, best to use a back pack rather than a suitcase. Non the less, porter service is provided, and suitcase is fine if it's what you have.
* San Jose is subtropical, but can be chilly at night, so a pair of pants and light sweater is recommended
* There are remarkably few bugs here, non the less they seem to like some people more than others, if   you are prone to bug bites bring repellant!
Optional items
* sun glasses
* water shoes for getting on and off the boats and hiking
* lightweight windbreaker or long sleeve cotton shirt for boat rides
* camera / binoculars
* snorkel, mask and flippers (we have some sets at the lodge)
* journal, coloring pens and pencils.