Program Details
Volunteering at Ocean Forest
Open Dates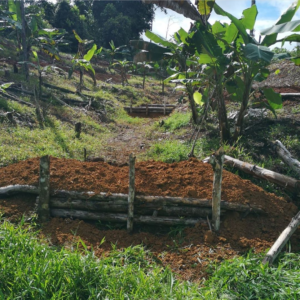 Ocean Forest Ecolodge Retreat and Cocoterra Rainforest Permaculture Farm are two sister initiatives with the aim and vision of personal, community and planetary regeneration and renewal. We offer volunteer and internship opportunities in a completely natural immersion experience. Join us for wholesome good times and good healthy work alongside our local allies, tending to the gardens and assist in implementing our Permaculture design. Volunteers will be required to fill in a questionnaire, and agree to both our Hold Harmless and Volunteer Guidelines Agreements. These can be found when the Register Now button is clicked. 
Volunteers receive:
Lodging at Ocean Forest Ecolodge in our designed volunteer rooms

Meals are prepared among volunteers in a community collaborative kitchen. 

Basic food provisions are provided with your tuition, which given our remote location we bring in for you.

Volunteers commit to six hours a day of volunteer service six days a week, with Sunday's as day off.

Daily work schedule for agriculture and permaculture work will be overseen by a volunteer coordinator.

Three hours in the morning, from 6 AM to 9AM

Three hours in the afternoon, from 2 PM to 5 PM
Additional Benefits:
  Access to jungle trails and the epic waterfall

  Plenty of wildlife and birdlife encounters

  Life on a gorgeous beach front property

  Timeless nature experience

  Life experience in the midst of the Costa Rican rainforest
The Ecolodge is a mesmerizing  place at the beachfront with ethnobotanical gardens. From here, we plan the activities to be done at our Cocoterra Rainforest Farm. Together with our founder and project director, ethnobotanist, rainforest guide and permaculture adept ~ Jonathon Miller Weisberger (when he's there) and local full time allies Victor Bravo, William Garcia and Emilio Quiroz, who you will be working with to help implement a permaculture designs both at Ocean Forest and Cocoterra.
We are looking forward to meet you and work hand by hand in this journey.